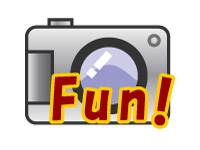 FotoFun is a Toy Camera Application.
It can detect up to 3 faces in the photograph preview and allows icon overlay.
Pleas enjoy it.
FotoFun works in HT03A(1.6), Galaxy S ,IS03, Xperia, HTC Evo and X06HT Desire, etc.
Download : go to FotoFun on Android Market
Please keep the camera landscape when you preview&take picture.